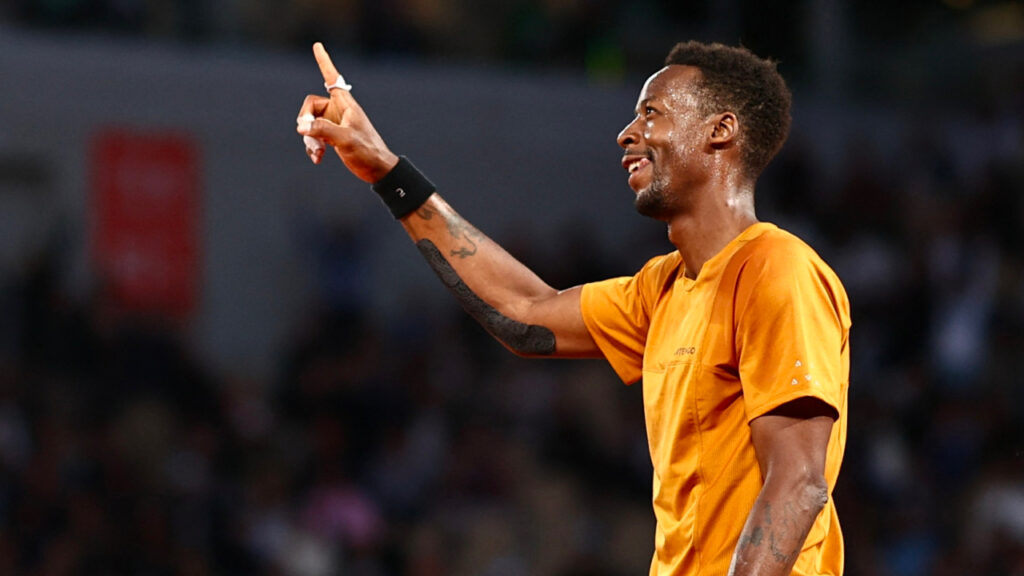 Roland Garros 2023. © AFP – Anne-Christine Poujoulat
It's good to be back. Really good.
When I last left you, I'll be honest, I wasn't feeling great. I was at the start of my comeback—finally, my big comeback—and… well, as so often happens in life, things didn't go exactly as planned.
For those of you who followed those first matches I played in the US, you know things were a little bumpy. I lost, multiple times—and while "on to the next one" remains my motto, I'm only human, and after all those months of looking forward to playing, I was feeling more than a little deflated.
…I wish I could say things got better after that.
But then in Miami, boom: I injured my hand. Again. Such a blow to my morale. But… I had to keep up with preparation for my absolute favorite tournament, Roland Garros. So a little injection into my hand and off we went again: I kept trying to regain my confidence throughout a series of lower-category tournaments (challengers).

Result? Loss, loss, loss: you can imagine my frustration. 

At some point during all this, I had to have a meeting with myself, figure out what was working, what wasn't. Mentally, I was there: motivated, pumped up, ready. It was physically and tennis-wise that I was falling short. Taking a good, hard look at things helped me arrive at a few key insights that ultimately led to a very difficult choice: to change up my entire team. 
A difficult decision, as you can imagine. Stuff like this is always tough, whether it's personal or professional. And in my case, it was both.
I want to highlight something really important here: It's not that my previous team wasn't good. My previous team was world-class, and still is. I believe there is no such thing as "the best team" in the absolute sense; only "the best team for where you are at right now." And I was at a crossroads in my career where everything that had worked so well up to that point simply didn't anymore, and as many of you business leaders will know very well, stagnation sometimes calls for a radical change.
Think of it as my rebranding, if you like. Often, you need an outsider's perspective to help you see your blind spots, to see new opportunities, to truly shake things up. I needed a new concept for my recovery, new practices, a new system.
Leading up to Roland Garros, I played a few preparation matches, (backed by not one, but two coaches). We lost the very first one… but wow, it was great—because I actually finished the match. Even if we weren't quite "there" yet, I could already feel a progression. It felt like, okay, wow, we're doing good work here. We're on the right track.
And then: Roland Garros. My home turf. My favorite tournament. The first time my daughter Skaï could be with me throughout.
Maybe you saw it live. For those who didn't, I was up against Sebastian Baez, an absolutely formidable player. The match starts, and it's not looking good. We're edging towards four hours on the court. I'm down in the fifth set, I'm cramping badly. A commentator said I was "dead and buried."
And then… the crowd revs up. They're screaming, encouraging me. It's magic, it's electric. And I feel this surge of energy that pushes me through to play one of the most amazing matches of my life. After months of failure, discouragement, physical pain… you can't imagine what winning that match meant to me. I sobbed. It was just unreal.
Until the next day. When I hurt my wrist again—and had to make the terrible decision to pull out of Roland Garros. This job is nothing but highs and lows. Still, I was riding high: my wife Elina played great at Roland Garros until the end, and I was so proud to support her.
Once I got back home, I had a moment where I thought, is this it for me? Does it end here? Replaying that match against Baez, the feeling of coming to life like that, I realized: no way. I can't live what I've just lived and give up now.
With my wrist busted up, I couldn't play, but I could run. So that's what I did: I trained however I could. I was hungry, hungry, hungry. I watched Elina play the most inspiring matches at Wimbledon, and that just filled me with even more fire. The injury was there, the pain was there, but my desire to play was bigger than all that. The win at Roland Garros, Elina, my new team, my daughter Skaï… all of that came together and gave me the energy I needed to carry me through the US Summer Swing, and this time, not just play, but win. Match after match, I felt my confidence coming back. It wasn't all a bed of roses, but I succeeded in moving forward, and collecting some crucial wins.
The power of those wins made itself clear two weeks ago in Stockholm, when I won my 12th ATP Tour title—exactly 12 years after winning the very same one for the first time. A coincidence, but I couldn't help feeling like it was a sign that I am going in the right direction. A week later, I played and lost at the Paris Masters. But that's okay: I got my confidence back. And that's what I needed to recover most.
It's been a rollercoaster of a year, in short. But now, close to the end of 2023, I feel so full. The adversity I faced throughout those first six months made the victories even sweeter. My team and I worked so hard—and that work paid off.

I'm back in the Top 100. I'm feeling good, mentally and physically. And I'm looking forward: to setting new goals for next year, to making the most of this pre-season, to starting off 2024 on the right foot—and to sharing the journey with you all along the way.

Until next time,
Gaël