Monfils vs. Federer: One of My Best Matches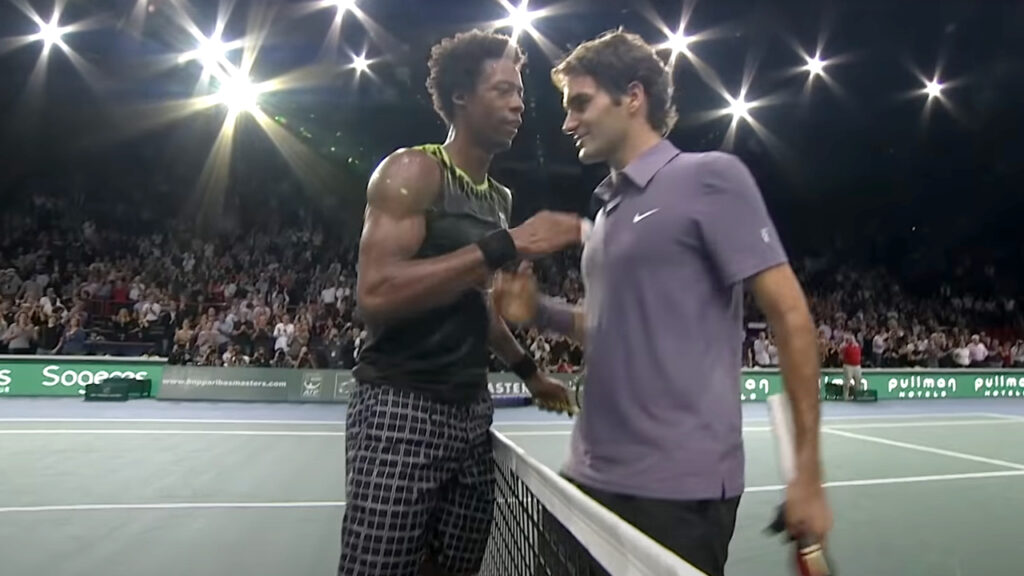 As I get closer to returning to the court, my excitement is growing—especially when I think back to some of the highs of my career. Today, I thought I'd share the story of one of the most exciting matches I've ever played: The semi-final of the 2010 Rolex Master Paris Bercy.
Me vs. Federer.
Roger Federer. A legit legend. The GOAT. A total game-changer. A man I'm lucky to call a friend. And a player I'm so proud to have shared the court with.
By this time, I'd already played him before—five times. (Never won once. Fair enough.) This match felt extra-special. It was the semi-final and a night session, ie. primetime. We were in Paris, my hometown, in an absolutely packed stadium. All my friends and family were there.
This may sound surprising, but I remember feeling total calm as I stepped onto the court: I'd had a good week performance-wise, and I was just so pumped up. Though clearly, I was not the favorite to win.
I'll tell you a secret. As pro players, we don't get psyched out by critics, predictions, reputations, talk. Before the match, everyone asked me, "aren't you nervous about facing Federer?" (Implication: "…Especially having already lost to him so many times?") But it's part of our training as athletes to learn to tune that stuff out. When you get onto the court, your mind goes completely analytical. You're just doing your job, which is to find the solutions that unlock a win.
The match kicks off, and I start strong, taking the first set with a tie-break. Roger revs up and wins the tie-break in the second set. Here we are: the third set. Roger is on fire with five match points; my back is against the wall. Somehow, I save them one after the other, forcing a tie-break. The tension is high, we're neck and neck. Finally, we're at 6-4 in the tie-break. (I'm rewatching this match as I write this, and even though I know how it ends, I'm still nervous for myself 😂).

This is where time stops for me: suddenly, for the first time, I become hyper-aware that I might win this if only I make this point. My friends in the stands are losing it, jabbing their index fingers at me to say "just one more, man!"
One shot. Deep breath in. And suddenly, with a single serve, the match point is mine.
Winning a match is always thrilling, but this win was absolutely euphoric. One, because it was such a satisfying match: we were mano à mano from start to finish, both of us playing our best. Two, because I was on my home turf in Paris. And three, because… did I mention how much I admire Roger Federer?
Of course, in professional sports, the euphoria of a win is only temporary. Within 24 hours, you're getting ready for the next match, the next tournament, the next season. But no matter how fleeting, you never feel so alive as in those moments. They make all the sacrifices you've made worth it. In short, I can't wait to be back.
What makes you feel truly alive?
Until next time,
Gaël